How to Learn Piano with Smart Phones?
More and more people take advantage of internet resources for convenient their life and study via smart phone apps. Smart phones and tablets have the magic attraction for the teenagers. If we use smart device for education, that will be very easy. Because you can search education resources or connecting with tutors for your classes at any time via smart devices. Today, we will talk about how to learn to play piano via smart devices.
Music has the special power, which can make you feel enjoyable. But learning piano is a really boring and long process. The skills need be practiced for many times, even combined with some technical methods, then your playing can be from small growth to quantum leap. In nowadays, there are a lot of apps which can help you learn and play piano for smart phones and tablets, but we really need a high quality app, that can be connected with the midi keyboard for playing. So, we recommend Perfect Piano today. You can find and download it in Google Play and Apple App Store.

If you have real electric piano or smart piano, you can connect it to your Android phones via a USB OTG cable to interact with Perfect Piano app. Perfect Piano can be interactive with your real electric piano. You can enjoy the real keyboard, but record your works via Perfect Piano app at the same time, even more amazing, you can share your works via Perfect Piano app. If you use iPhone or iPad, you can use the lightning to USB Camera cable to connect with Perfect Piano app. This feature is really awesome.
There are hundreds of classical and pop music in Perfect Piano, at the same time, Perfect Piano also support different play modes, including falling notes, waterfall and music sheet. Even you don't know how to read music sheet, you can play the songs correctly via the falling notes mode. Kids can play twinkle twinkle little stars easily even they didn't study piano before. This can inspire their interests for learning piano. Of course, you can use A-B loop, quick skip, pause, speed changing, and other essential features for learning. The most impressive feature is the songs simplification, especially for the complicated songs, which are not for practicing for the beginners. If the beginners choose the simplification mode, they can learn and play the songs easily, and enjoy the progress.
The music sheet feature of Perfect Piano can be used for reading music. When you choose music sheet mode, you can see the keyboard playing at the same pace with the above music sheet. If you change the visible keys to 88, you can see the whole keyboard, and read the music sheet easily. The base for quickly and exactly to find the right notes is the knowledge for the music sheet, so you must have the basic knowledge for music sheet, then you can follow the music sheet to play piano via Perfect Piano.
Virtual keyboard is the main feature for Perfect Piano. When we go outside or without piano, you can use the virtual keyboard for playing. Perfect Piano not only has the piano sound, but also has organ, violin, bass, and other 20 instruments sound. You can choose your prefer sound for playing. Except for playing piano, you can use Perfect Piano for ear training. Take the phone and installed the Perfect Piano, you can practice any time at anywhere.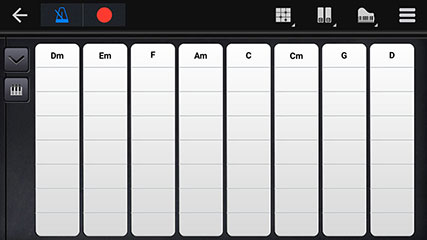 Virtual keyboard support Dual Row mode, Chords mode, you can use different modes to play piano easily. There are hundreds of chords preloaded in Perfect Piano. As the limitation of the small size screen, you can use preload chords for convenient playing, just click the screen, you can listen the wanted chords sound. BTW, this is a good way for your composition during your trip or in your leisure time.
Recording is a necessary feature, too! Perfect Piano supports MIDI and Audio recording. MIDI recording meet the standard midi protocol, the size of the recording is very small, but the quality is high. You can play MIDI recording via any media player. Audio recording is recorded via microphone of mobile phones or tablets. You can sing and play piano together, and record vocal and piano by audio recording at the same time. Another key point, you can use the audio recording as the ring tone of mobile phones, or share it to your friend directly. Easily sharing is the advantage of mobile phones, For the students, they can send their works to teacher for comments and feedback immediately.
The most important thing is, Perfect Piano is a free app, you can download it anytime and anywhere. Smart phone is changing our lifestyle, and more and more high quality apps will make our life and study more efficiently. These just are the author's points, welcome more suggestions!